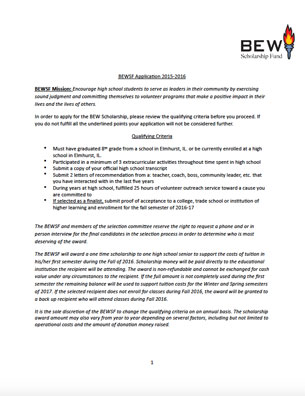 Instructions for Applying Online
Download and save the BEWSF Application 2017-2018 (Click Here for the latest version of Adobe reader)

Warning:

The BEWSF Application must be saved to your computer before you begin filling in the form. If you do not perform this step first, the information you entered may be lost!

Complete all sections of the document. There is a preset limit of characters for some answer fields, so carefully consider each question.
Carefully check to ensure that all the required information has been provided and is accurate.
Make sure you click the Applicant Signature box located on Page 3 of the application.
If you are asked for a Digital ID and you do not already have one, click the option "A new digital ID I want to create now" and follow the instructions to create one. You also have the option of signing Page 3 manually.
Attach or scan all of the following documents to an email in PDF Format Only:

Completed BEWSF Application with electronic or manual signature
Official high school transcript inclusive of first semester of senior year (Academic year 2017-2018)
2 Letters of Recommendation

Please label the subject heading of your e-mail message with your First name, Last name: Message #1. If for any reason you must submit any follow up messages, use the same subject heading followed by Message #2, #3, etc.
Email Documents Here to the Brian E. Wagner Fund Scholarship Committee between 12/31/2017- 2/28/2018.
Dates To Remember
Final submission deadline - February 28, 2018
Interviews with finalists - April 1-24, 2018
Scholarship recipient will be announced on or before May 15
If you have any questions please contact us »